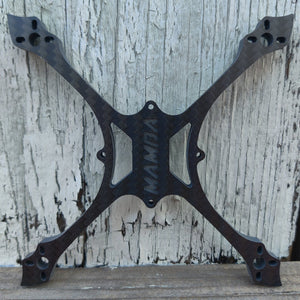 These are the same awesome ASBO X, but they have a defect in the engraving. This current batch is only engraved on one side. I am offering them at a discount to my fellow pilots.
MambaFPV has been flying DLQFPV and 8bit Micro frames for the last two years. He came to me with a special request. He wanted to take the 8bit nebula he loved so much but give it a Mambafpv twist. We ended up with a tank, that is cut from 6mm 3k Carbon Fiber. Along with Custom TPU Canopy and TPU arm guards this frame is a beast. Supports 25x25 (whoop style) AIO FC.

Frame has been updated to be even more durable with some modifications made to widen the arms at the base. We also went with a 1mm Mamba inlay on either side to made milling easier for our cutter. All frames still carry a one year warranty as long as your build is within the frame specs. 
MambaFPV Spec Build:
FC: Fettec 15a AIO
Motors: T-motor f15 6000KV (1106)
FPV Camera: RunCam Nano Race
VTX: TBS unify nano with linear whip antenna
RX: CRSF nano
Props: HQ3x3x3
All ASBO X frames come with the following
6mm 3K carbon frame
12 M2 8mm motor mount screws
4 M2 30mm FC and Canopy mounting screws (analog) or
4 M2 16mm FC and Canopy mounting screws (digital)
4 M2 steel nylon lock nuts
4 TPU Arm guards and 1 Canopy (analogy or vista compatible.
TPU Replacement Parts: 
Custom MambaFPV/DLQFPV DJI canopy coming soon, in meantime check out this one on thingiverse