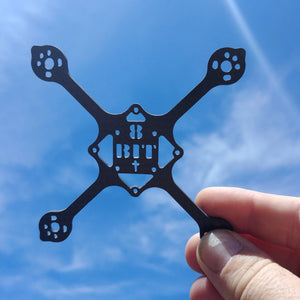 I designed this frame for 8bitchrist_fpv.  I wanted to make him a signature frame that was light weight and could accept a 36x36 flight controller board natively. Cut from 2mm 3K carbon fiber by a North American company.
What's different about this version: I removed the rubber band mounting points and added support for 16x16 FC. Motor mounts are the same a the 8bit XL frame but the overall size is in between the XL and the OG 8Bit frame. 
Specs:
Thickness: 2mm 3K Carbon fiber
Size: 103mm (True X)
Supports up to 65mm props and 11xx brushless motors with 8.5 or 9mm four hole mounting pattern (think Racerstar 1103b or Betafpv 1103) as well as a 3 hole pattern found on the AMAXinno motors
All 8bit frames now come with nylon M2 Hardware (4 screws, 4- 5mm male/female standoffs and 4 nylon nuts) Steel screws and nuts are available as an add-on item. 
Recommended parts: